When Instruments Roamed the Earth!®
a family symphony orchestra concert
© 2021, Singleton Productions, Inc.
---
concert description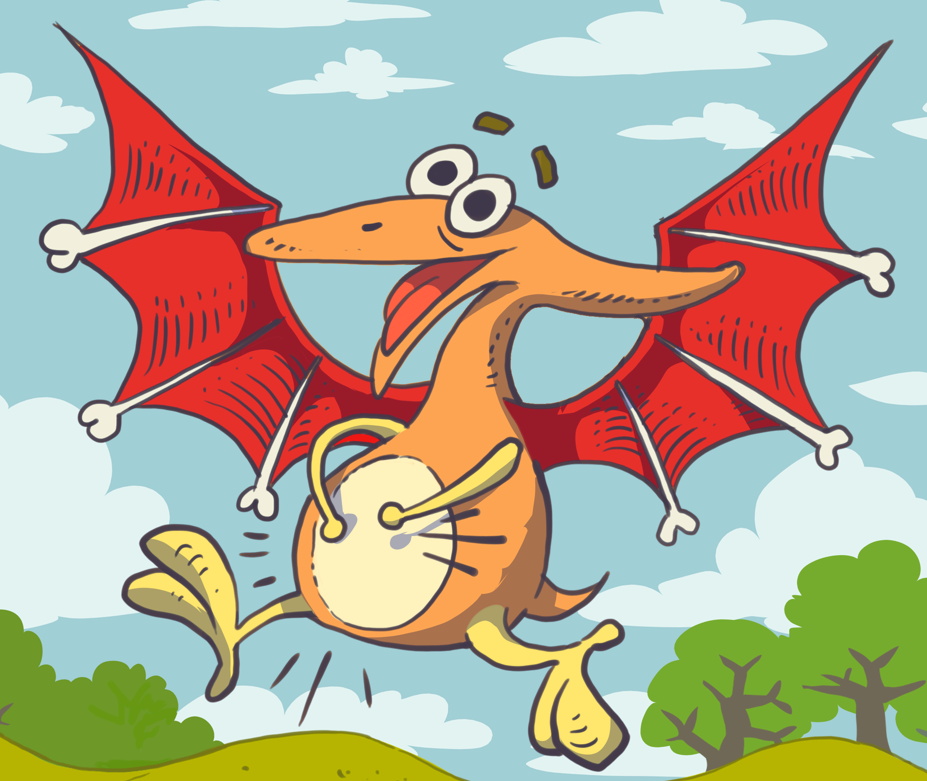 "When Instruments Roamed the Earth!®" is an all-original, multi-media, story with narration. and music event for symphony orchestras.

Just as Looney Tunes introduced a generation to loving classical music, "When Instruments Roamed the Earth!®" takes a new generation on a hilarious journey to love the people, the sound & the experience of the symphony orchestra.
"When Instruments Roamed the Earth!®" is sold as a "season pass," allowing unlimited performances during a season.
The concert purchase package includes:
.pdf conductor score, all parts books, narration and technical scripts
all graphic files for projection during performance
promotional graphics, video, and text copy for programs, print, and web media
all rights to present music, story, & graphics in concert and promotions for 1 year
printed scores and parts available, and are sold, not rented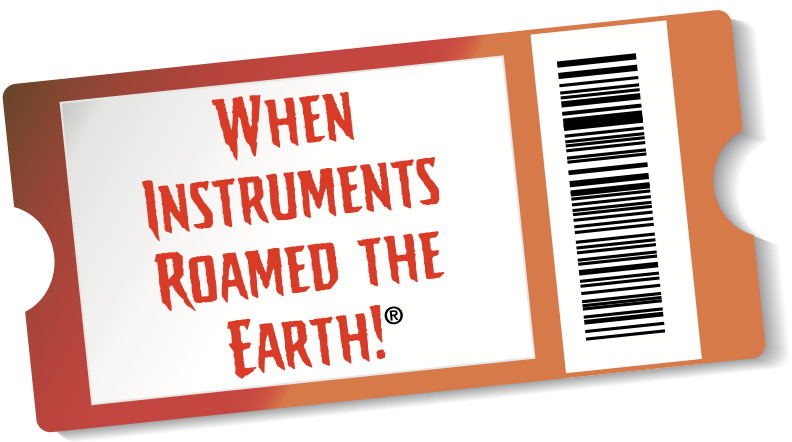 Specifications: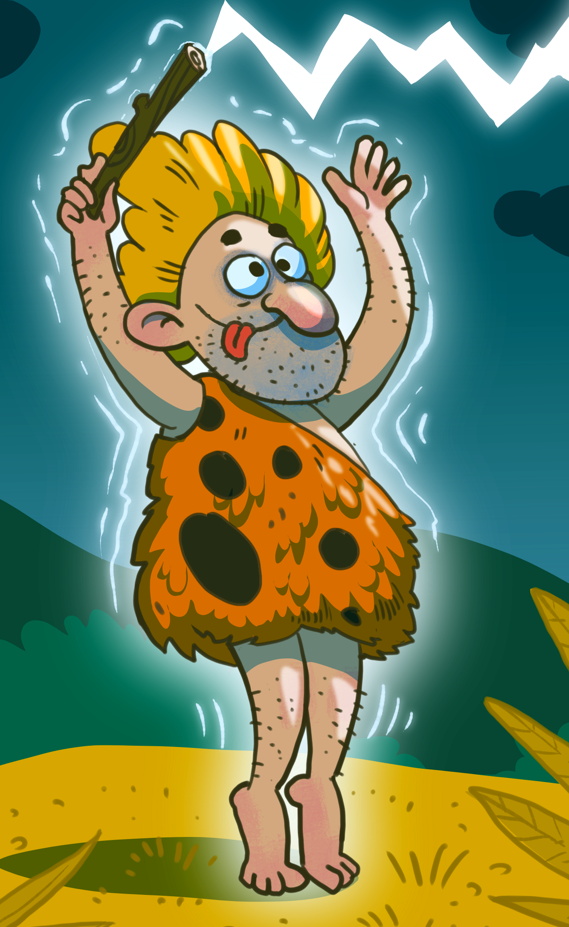 perform in under 45 minutes
"double winds" orchestra (plus piccolo-full orchestration listed below)
all original score, graphics and story
narration can be delivered by special guest or conductor
fun & funny music and story for kids and grown-ups
features orchestra soloists and sections throughout
one easy rehearsal, many impressive performances
---
the concert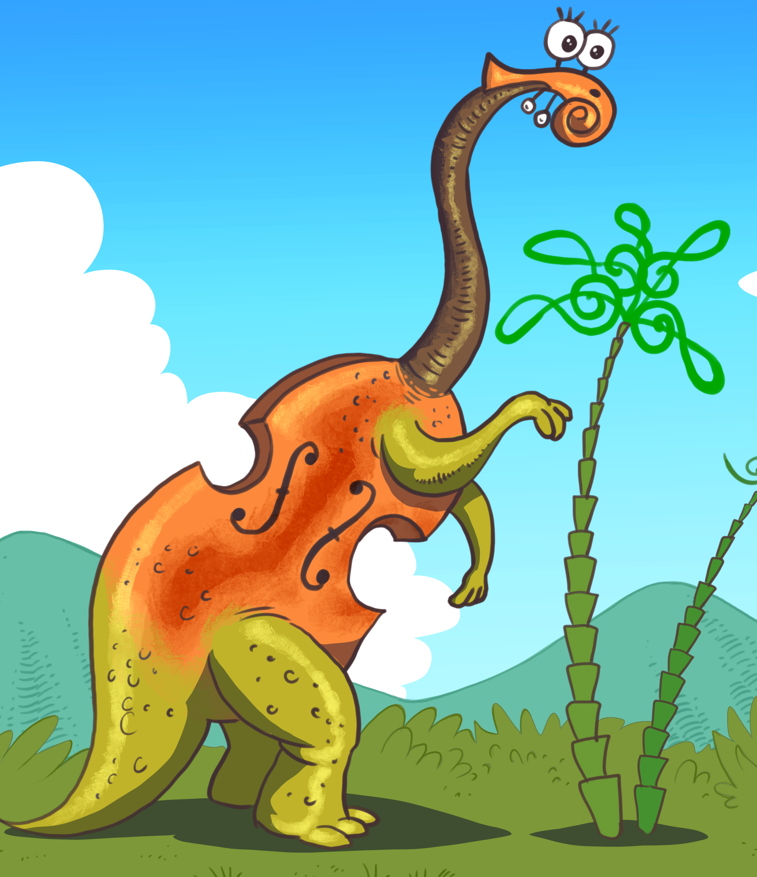 In pre-historic times, strange creatures walked the planet. These were the ancient ancestors of musical instruments that inspired melodious makers in brass and wood to create the instruments we see in the orchestra today.
Take a journey into, "When Instruments Roamed the Earth!®" Filled with laughs, surprises, multi-media projection and on-stage action, any symphony can easily present this perfect all-ages introduction to the exciting sounds, people, and experience of a symphony orchestra concert.
Hear and see the hilarious "research" of paleo-musicologist, Sir Humphrey Treble-Clef, who believes that our modern instruments are actually the descendants of giant, dinosaur-like creatures like you've never seen before. These are strange creatures which exist in the hot, mysterious, swampy jungles of Sir Humphrey's unusual imagination.
Most will not believe a man who tried to prove that ancient humans made music by hitting themselves on the head with rocks; but everyone will smile, laugh, and be in awe of the symphonic interpretations of Sir Humphrey's wild theories, featuring all the instruments of the symphony orchestra.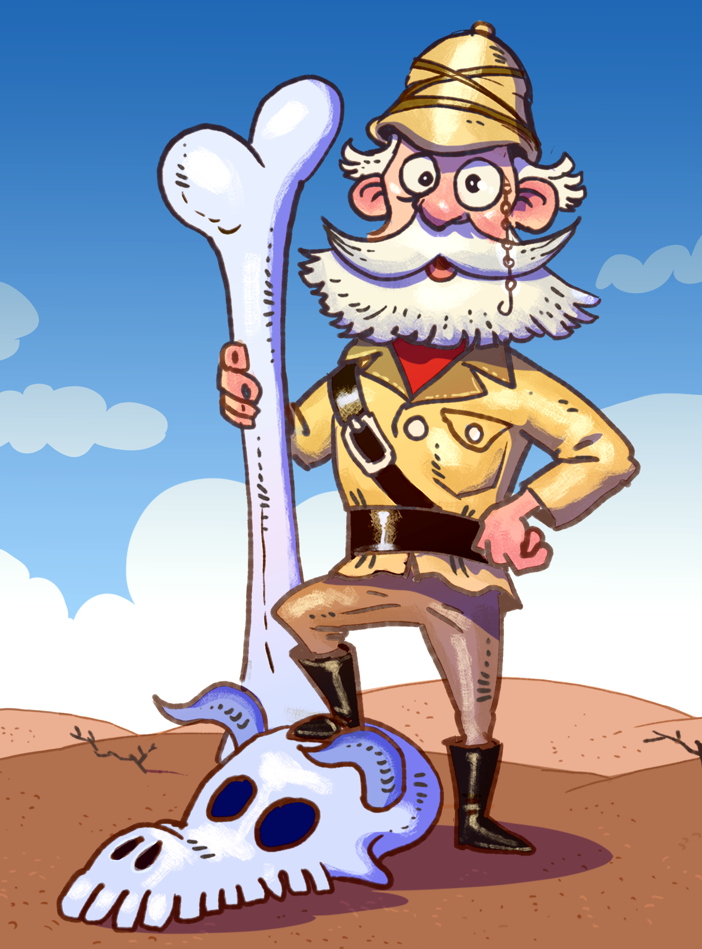 The concert event package includes:
fun and funny musical sounds and sights
liberal use of humor and energy
a showcase of the people, instruments, and dynamics of the symphony orchestra
a musical/narrative journey that builds to a grand finale, leaving audiences wanting more
fun, eye-catching original art for projection, programs, print and social media
fun, challenging, and performable music
narration can be delivered by a hired performer, the conductor, or by a non-musical guest narrator
social-media-friendly lobby interactions with characters, musicians, and sponsors
---
take away promotional & lobby activities
Symphony branded pdf coloring pages are included for lobby fun and take-home promotional items. Symphonies add their logo and/or sponsor logo on art that will live for months on bedroom walls and refrigerator doors.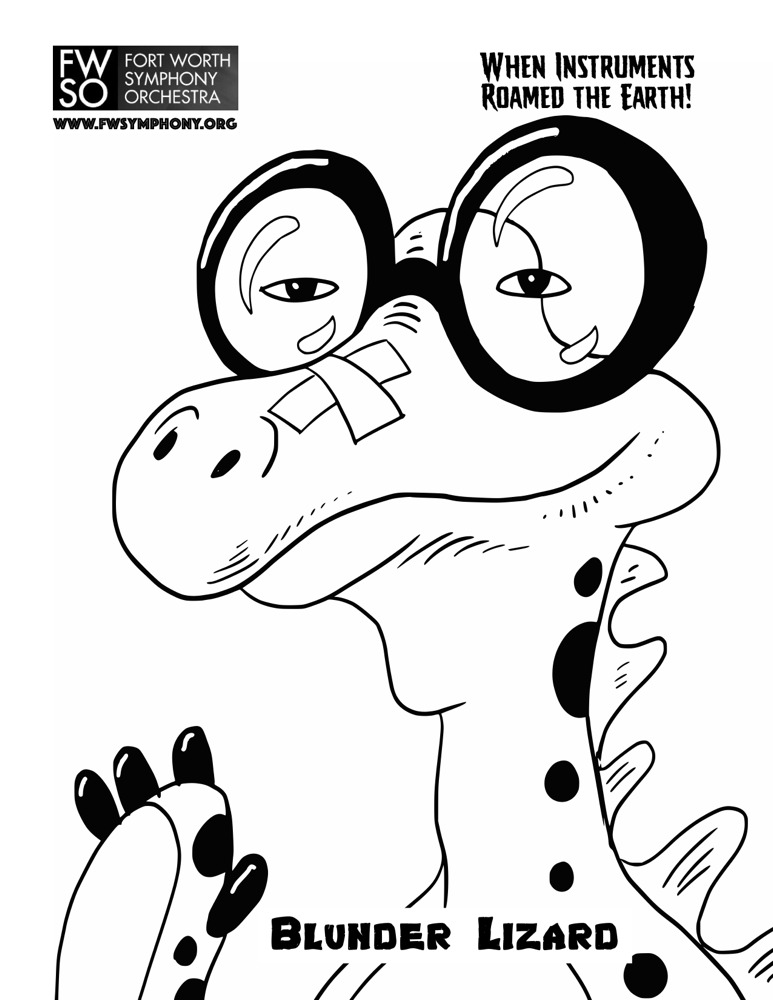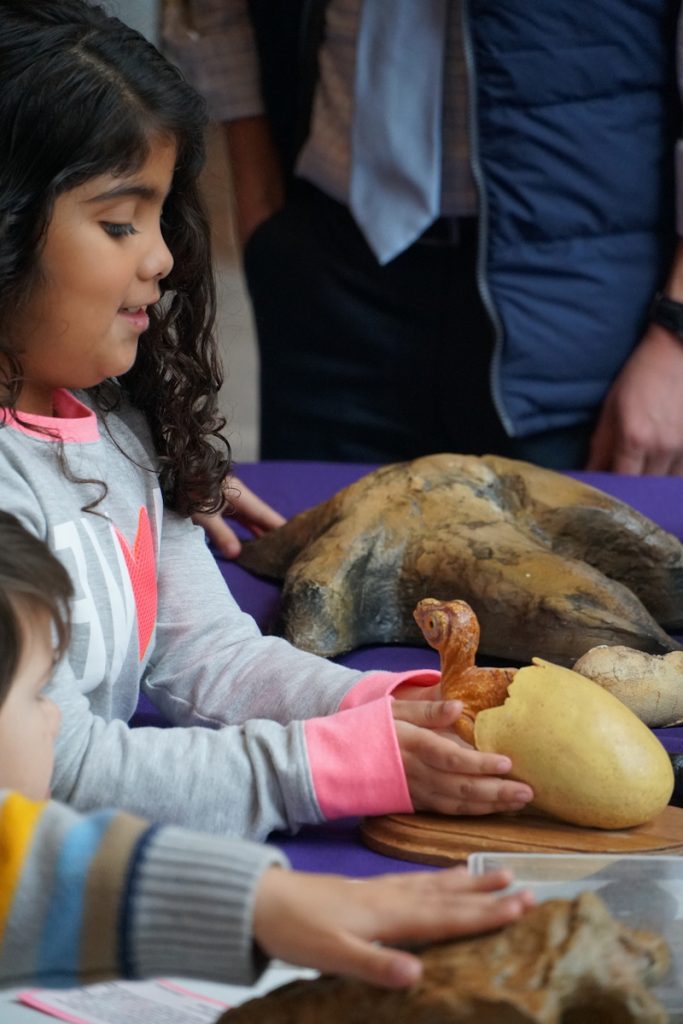 Create complementary lobby co-promotions with sponsors and natural history museums.
Lobby social photo opportunities spread the symphony name and fun by including onstage characters and symphony musicians.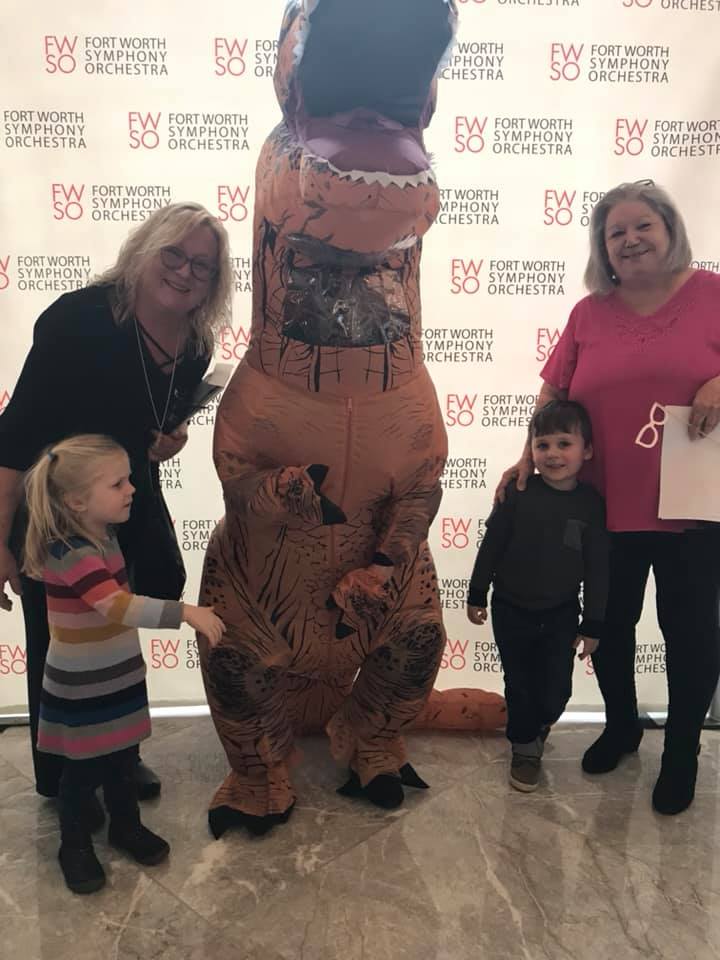 ---
educational values
Families will be thrilled as they experience exciting, age-appropriate sights, sounds, and sensations with the orchestra, making them laugh and want more. Using captivating examples and without lecturing, audiences see, hear, and experience the four sections of the orchestra with eye-and-ear-catching examples by soloists and sections.
The performance uses visually kinetic "choreography" throughout as soloists and sections stand and interact, showcasing dynamics, contrasts, personalities, and the enchanting sounds of the orchestra.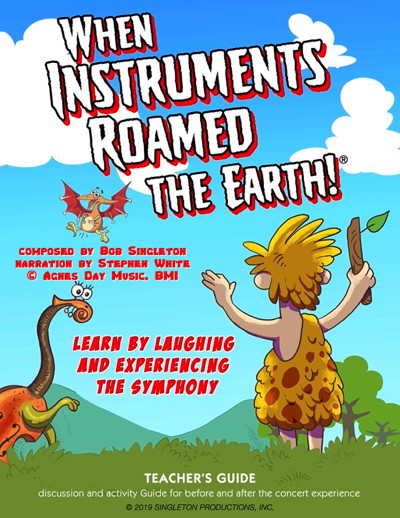 Includes free downloadable Teacher's Guide with pre-concert and post-concert discussion ideas.
---
audience survey responses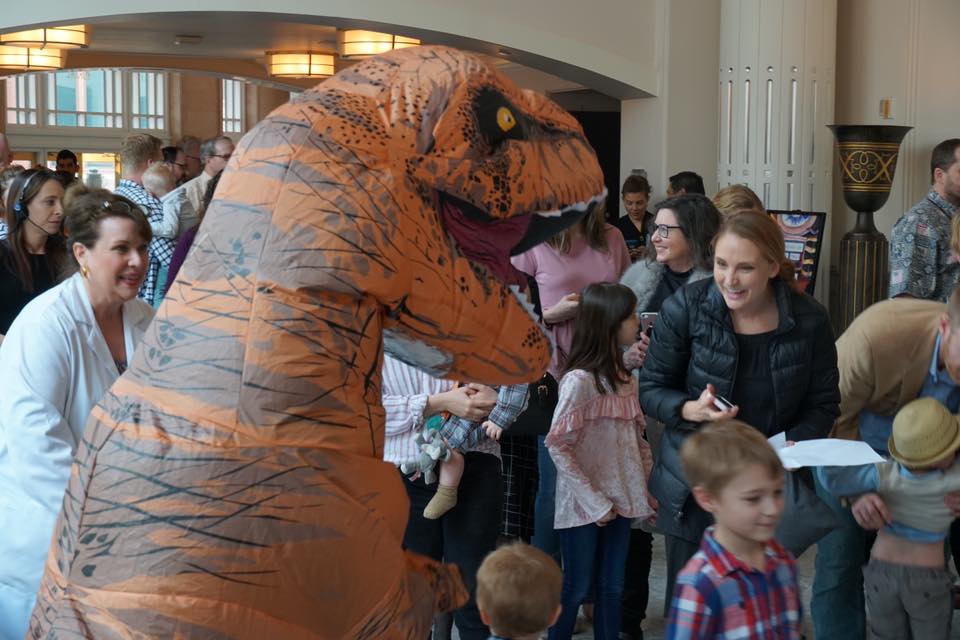 (survey of audience members at world premiere performance):
"Best of the 3 [family] concerts we attended!"
"Amazing! The children were so engaged and excited! FANtastic!!!"
"If this is an example of what the family concert series is about, I'm sold."
---
the creative team
"When Instruments Roamed the Earth!®" is created by the award-winning TV writing team of Bob Singleton, composer, and Stephen White, script & story.
Bob Singleton is a classically trained, Grammy®-nominated and multi-platinum album award-winning composer, producer, and arranger. His musical works for kids includes music for over 70 PBS episodes, more than 60 albums, an NBC network special, and a sold-out Radio City Music Hall run. Bob served as the music director for the world-wide children's phenomenon, "Barney® & Friends" for 10 years, and has been awarded two multi-platinum albums, and nominated for a Grammy® and 4 Dove awards in the Children's Musical Album of the Year category.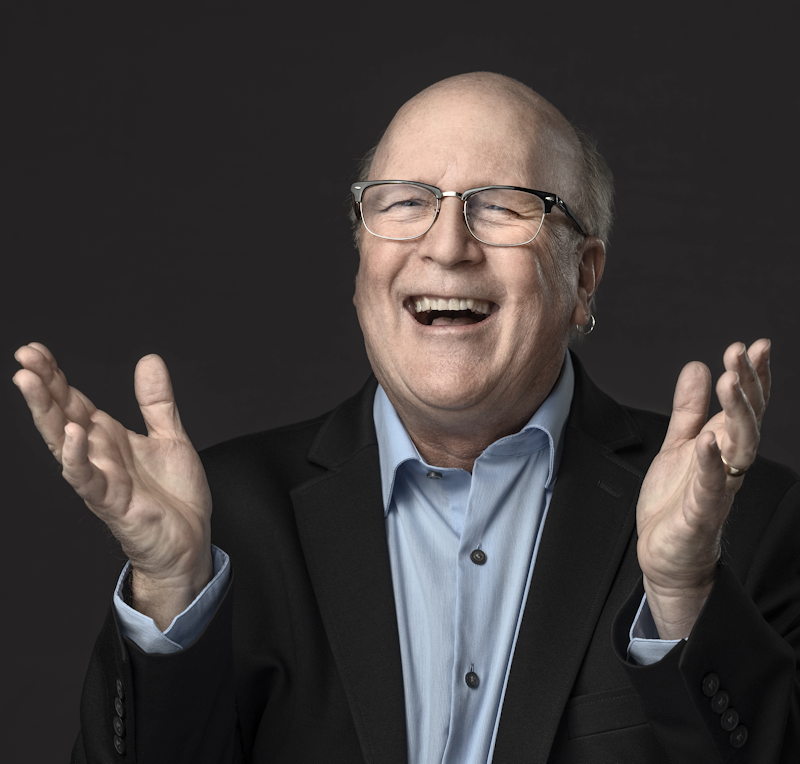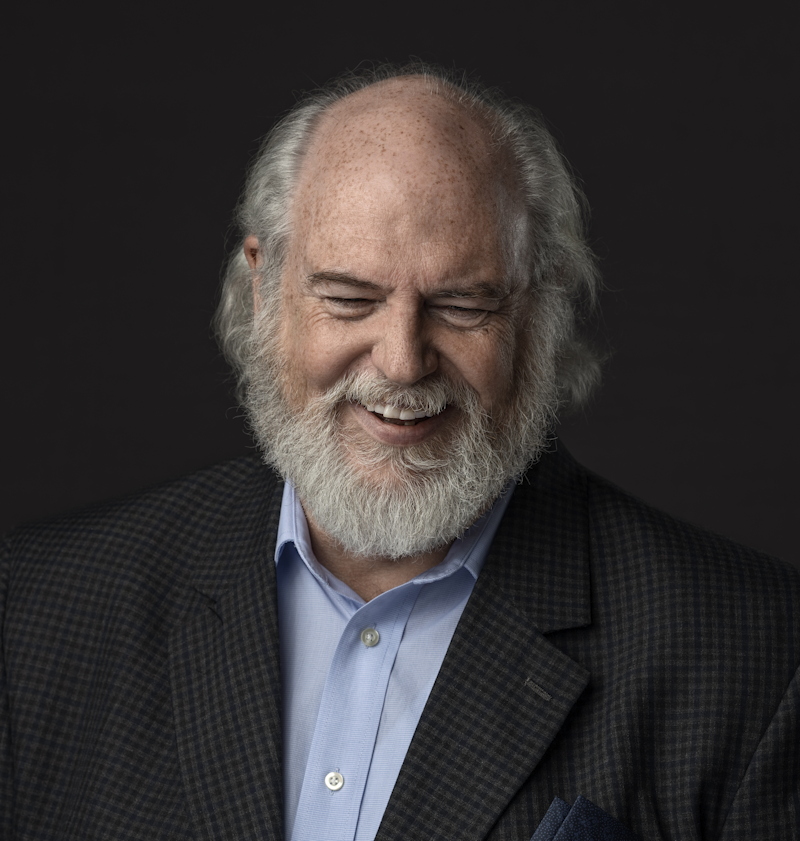 Stephen White is an Emmy and Grammy®-nominated writer, with years of experience writing for television, home videos, stage shows, million-selling children's books, and film. His credits include Principle Writer for "Barney® & Friends" (16 years), writer for in-store musical extravaganzas for Chuck E. Cheese, lyricist for many award-winning songs and commercials, and children's app developer/creator of "AlphaBELCH" and "Thumbpire," which incorporate stories, images, and music for young children.
Max Larin is a busy artist and illustrator for books, magazines, and computer games around the world, while enjoying life in Kiev, Ukraine. He loves watercolor painting and creating imaginative worlds with computer tools.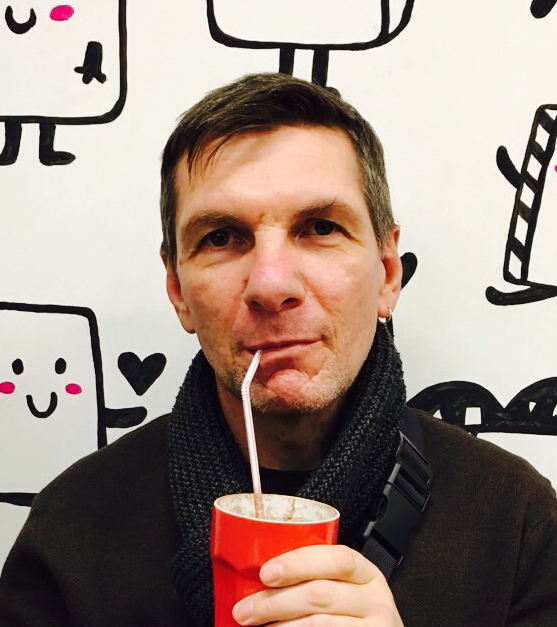 ---
orchestration
strings:
violins 1
violins 2
violas
violoncello
contrabass
woodwinds:
1 piccolo
2 flutes
2 oboes
2 Bb/A clarinets
2 bassoons
brass:
4 horns in F
3 trumpets
3 trombones
1 tuba
percussion:
1 timpani
3 utility
1 piano (can be digital)
1 harp
---
projection specifications
Projection content is 42 sequentially numbered 1280×960 pixel .png graphics files. These files must be placed into the projection program of your choice. There is a separate "Slide Advance Script" with cues and instructions. Slides only advance during narration, so operator does not need to read music.
---
audio specifications
2 voices need microphones: conductor & narrator (voices speak sequentially, never overlap)
Optimum mic/operator spec for voices:
conductor – your choice of microphone
narrator – wireless headset mic for narrator to allow gestures and possible entrances/exits
audio operator to balance volume levels between conductor and narrator, plus mute inactive channels
Minimum mic/operator spec:
one microphone shared by conductor & narrator, and handed off from conductor to narrator
boom mic stand for narrator
mic placement should allow narrator to gesture with hands, and have sightlines for script, orchestra, and graphics
audio operator to adjust volume and mute mic when necessary
---
lighting specifications
Optimum lighting:
full orchestra illumination during music cues
fixed spot on narrator during narration
one follow-spot with operator for T. Rex costume character
Suggested pre-programmed lighting looks:
full orchestra lighting for all music cues
narrator on side of stage with fixed spot and orchestra lights down, allowing visibility of projection on screen and drawing attention to narrator.
for final music cue, manned follow spot on T. Rex plus full orchestra
Minimum Lighting:
orchestra illumination with pre-lit narrator and conductor.
allow enough down-stage spill to light the "guest conductor" in a T-Rex suit who will enter and position in front of conductor riser to do physical schtick during music Cue 10.
anticipated area of T-Rex movements is up to 20 feet left and right of the conductor riser.
---
staging considerations
One music stand for narrator script; placed on either stage left or right of orchestra, not at center. Short exit path off-stage or stepping out of sight for narrator is a plus during music cues. Narrator does not require a seat onstage.
T-Rex suit is 7' tall, and the tail is nearly 3 feet long. Person in T-Rex suit will have very limited visibility. They should have an area of sufficient size near the stage to put on and inflate the suit. It is recommended that there are no stairs or obstacles on path to stage.
T-Rex should have a straight, unhindered path to front and center of stage from wings.
A backstage and lobby event wrangler for the character should be provided.
T-Rex character will need at least 6' of space between orchestra and lip of stage, plus 20' left and right of conductor riser to perform during final music cue.
---
post-concert meet & greet/social media stations in lobby
Pre-plan social photo stations with line wranglers and courtesy photo-takers for 2 characters. Any additional meet & greet such as conductor and musicians is a bonus.
---