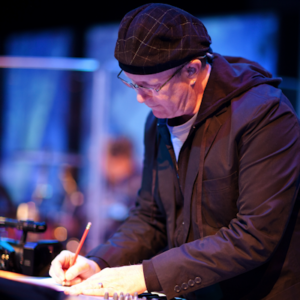 Thanks for visiting. You can also keep up with recent activities on my Facebook page, or contact me directly.
Bob Singleton – composer-arranger-producer
Bob Singleton has created music and sound for films, (including Academy Award nominated film, "In America") numerous Emmy award winning and nominated programs ("Barney® and Friends," "In Search of The Heroes," and others), plus Grammy-nominated/Dove-nominated mulit-platinum kids albums & top 20 national radio chart (R&R Christian rock) productions, and well-known international projects (Marvel Animation, "Barney® the Dinosaur").
Bob offers clients anywhere in the world award-winning composing, arranging, production, sound design, and scoring to picture for live instruments and digital workstations; in a comfortable cutting edge digital audio/video environment.
ANNOUNCEMENT: Bob's recent triumphant kids & family concert for symphony orchestra has undergone an official title change. The original concert title as performed by the Fort Worth Symphony Orchestra was, "Jurassic Parts." Due to issues such as adult entertainment search engine links and hashtags that came about after the premiere, the title of the concert has been officially changed to "When Instruments Roamed the Earth!"
See more about his recent project for symphony orchestras, "When Instruments Roamed the Earth" (formerly "Jurassic Parts").