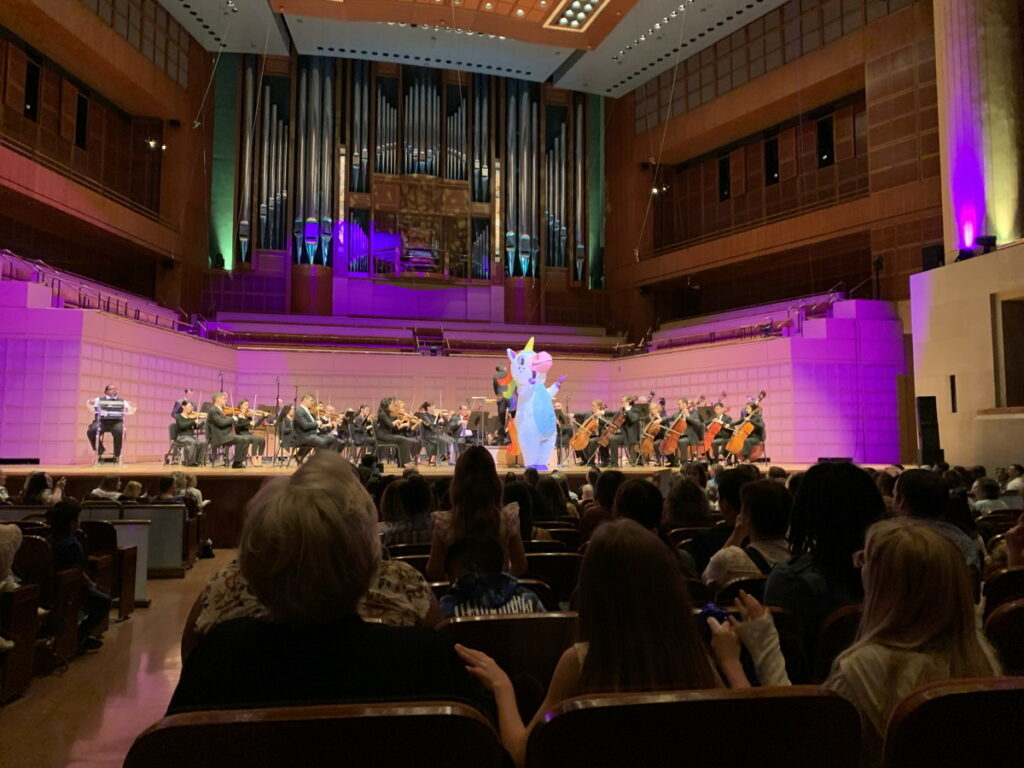 The Birthday Unicorn and the audience conduct the Dallas Symphony Orchestra in the rousing final movement of the concert.
"The Unicorn's Birthday®" by Bob Singleton is a charming, fantasy-and-fun-filled symphony experience. Join the family-friendly birthday celebration brimming with music, narration, fun sounds, captivating on-stage activity, projection graphics, and gentle audience interactivity. This new work is an entertaining and welcoming concert for young families and/or special needs audiences. There's even a visit from the costume-character Birthday Unicorn!
Hear, see, and imagine as the symphony orchestra presents a musical world of friendly penguins, monkeys, ducks, and other animals celebrating the Unicorn's birthday. The concert finishes with a grand flourish as the audience conducts the symphony orchestra along with the costumed Unicorn. Everyone takes home free symphony-branded coloring pages filled with fun images from the concert.
Bring your favorite unicorn items, wear your best unicorn outfits, and get your picture with the Birthday Unicorn! The concert is perfect for patrons that are OK with moderate audience activity during the performance and wish to enjoy a memorable orchestra experience without frightening noises or musical tension.

The Unicorn's Birthday was commissioned by the Dallas Symphony Orchestra, and co-commissioned by the Savannah Philharmonic Orchestra and the Oklahoma Modern Music Collective.
Bob Singleton, Composer – Bob is a classically-trained and Grammy®-nominated multi-platinum album award-winning composer & producer. He has also been nominated for 4 Dove awards in the Children's Musical Album of the Year category. Bob is probably best known as music director for the hit kids PBS TV series and home videos, Barney®, and Friends for 10 years.
His works for symphony orchestra have been performed by the Dallas Symphony Orchestra, Nashville Symphony, Fort Worth Symphony Orchestra, Louisiana Philharmonic Orchestra, Alabama Symphony Orchestra, and many others.
---
"The music is catchy, clever, full of beautiful melodies, and peppered with entertaining sound effects like cats meowing, ducks quacking, and some simple spoken words or sound effects from the musicians. I was so pleased at the first rehearsal when the musicians were giggling and smiling throughout.
"I would highly suggest programming The Unicorn's Birthday for a sensory-friendly and/or family concert! We will definitely be working with Bob again." – Jennifer Guzmán, Director of Education, Dallas Symphony Orchestra
---
"I thought it was a wonderful program and definitely a keeper for future years. I was watching the audience and the interaction was fantastic, the length perfect, the melodies sweet and fun, and, of course, the orchestra "parts" hilarious. You cannot go wrong with Bob Singleton." – Karen Schnackenberg, Principal Librarian, Dallas Symphony Orchestra
---
"It was such a pleasure to be part of this project!! I think this is a very special piece and I was proud to be part of the team that brought it to life. I hugely enjoyed working with Bob, and if there are opportunities to collaborate in the future, I would be eager to do so." – Maurice Cohn, Conductor
---
"I wanted to let you know that I have been doing this for 20 years and I have never seen so much positivity about a children's concert. The orchestra absolutely loved it! This was truly an amazing project and kudos to you for creating it!" – Bob Greer, Librarian, Dallas Symphony Orchestra
---
"First, you did a wonderful job of inviting a new audience into our world in a way that they could understand. Second, the music and the melodies were delightful! Third, The Unicorn's Birthday is simply a first of its kind that I am aware of, a pioneering work for an audience as yet unreached.
"I am so proud to have been a part of the first performance!" – David Matthews – English Horn, Dallas Symphony Orchestra
---